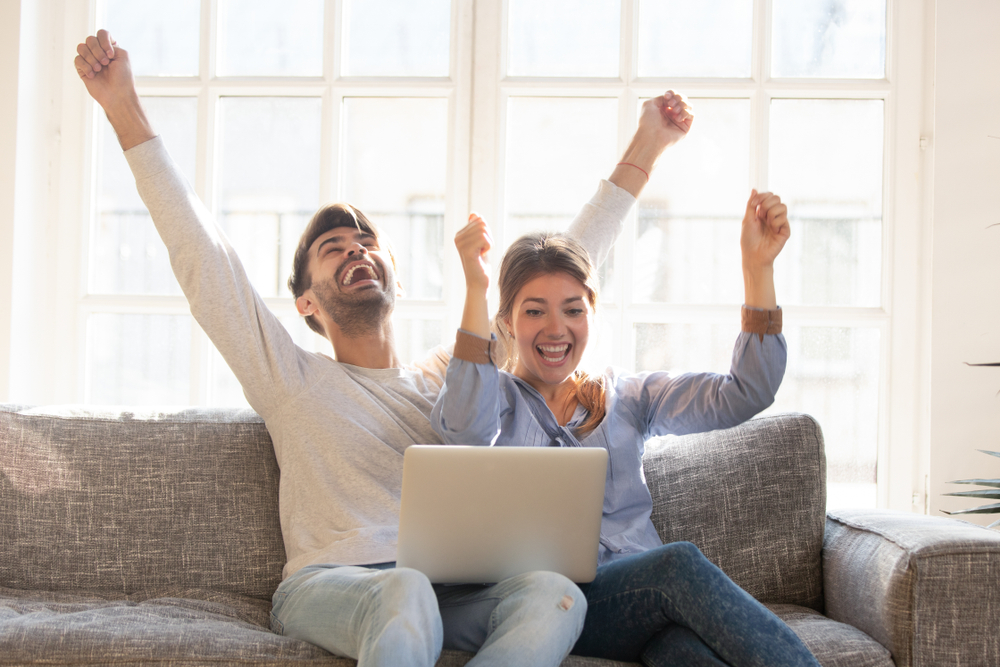 How fast can you get a fully underwritten pre-approval for a mortgage?
Getting a fully underwritten pre-approval for a fast closing mortgage is essential in the current housing market.  In California, Arizona, and Texas, purchase contracts must indicate if the pre-approval was fully underwritten or just reviewed by a loan officer.An offer that isn't backed by cash or  fully underwritten, pre-approved financing is sure to lose out to others that are more competitive. Sellers want the transaction to be quick, easy, and painless to stand out above other offers
Verify your mortgage eligibility (Feb 4th, 2023)
The average time to close a mortgage in 2021 was 51 days, compared to True Path Loan's average of 14 days on purchase transactions in 2021.  We've helped homebuyers stand out by getting them preapproved for a fast-closing mortgage by going through underwriting before making the offer. At True Path Loans, we do Fully Underwritten Pre Approvals in hours compared to other lenders that take days or weeks, which allows buyers to write offers with14 day closings and no or shortened loan contingencies.This sends the message to the seller that you are serious, you have the means to close the deal, and that it won't take forever to do so. 
Here's an introduction to the process of getting preapproved for a fast close mortgage and what to ask to find the fastest-closing mortgage lender.
What is a Preapproval for a Fast Closing Mortgage?
Preapproval for a mortgage involves supplying a potential lender with everything they need to decide if they will grant you a mortgage or not. You must give them proof of your financial situation. A lender may ask for some or all of the following: 
Verify your mortgage eligibility (Feb 4th, 2023)
Personal ID (Drivers license or passport)

Recent Pay Stub and last 2 years of W2's (if W2'd employee)

Tax returns for previous 2 years (if self employed or using income from tax returns, ie rental income)

Assets used for Down Payment (Recent 2 months statements)

A gift letter (if you're using a gift for a down payment)

Credit Report (lender pulls their own report)
Most lenders take 3-7 business days to complete the preapproval process and give you a verified preapproval letter.  True Path Loans can get a fully underwritten pre approval in hours through a BLINK, an AI enhanced system that helps automate underwriting to make the process faster for our team of underwriters.
Debt-to-Income Ratio
The bank will also check your debt-to-income (or DTI) ratio to see how large your mortgage can be. Your DTI is calculated by adding up the monthly payments on all your debts (car notes, student loans, credit cards, etc.), then dividing it by your income before taxes. For instance, let's say you make $5,000 each month before taxes. Your monthly debt payments include $250 for a car loan, $150 for a student loan, and $100 on credit cards. Your total debt payments ($500) divided by your gross income ($5,000) equals 0.1, or 10%. 
Banks and mortgage lenders like to see debt-to-income ratios of under 36%. At True Path Loans, we have options with Debt to Income ratios up to 50% on conventional, 45% on jumbo, and 57% on FHA.  VA loans allow for Debt to Income ratios into the 70%'s.  Candidates with low DTIs have a better chance of getting preapproved and will find better mortgage rates and terms than those with higher DTIs.
Verify your mortgage eligibility (Feb 4th, 2023)

Optimizing Your Mortgage for a Quick Closing
The two biggest factors in how fast your mortgage will close are your financial situation and how your mortgage lender operates. Let's talk about how each one has bearing on how quickly you can get the keys to your new home.
Your Financial Situation
The more complex your situation is, the more things the bank has to investigate before deciding whether to issue a mortgage. Two brokerage accounts, three retirement accounts, five credit cards, and three checking accounts will take a while to go through. If any accounts or debts are international, this adds to the complexity, and hence, the time.  At True Path Loans, our BLINK AI technology verifies accounts electronically, making submitting bank statements a thing of the past.
Verify your mortgage eligibility (Feb 4th, 2023)
The negative components of your financial picture can add time too. Bad or no credit, outstanding debts, and delinquent accounts can make lenders more hesitant to lend to you, forcing some to postpone buying a house while they are rebuilding credit. These dings on your record may not be deal breakers, but they might make the bank want to investigate things more thoroughly before making a decision. As a direct lender and mortgage broker, with a multitude of lenders and banks signed up as wholesale partners, we can offer mortgages to those with challenging credit down to a 500 FICO score.
To ensure a fast closing mortgage, gather all the documents you may need to send to your lender. This includes start dates for employment, as well as contact info for your boss and/or landlord.  It's also a good idea to review your credit with a mortgage professional as they can provide proper guidance to get your credit to where it needs to be to purchase a home.
The Efficiency of your Mortgage Lender
Though the inner workings of your bank or mortgage lender are beyond your control, how they operate can have a big impact on how long it takes your mortgage to close. Many national banks don't do their underwriting in-house; they farm it out to a third party. Unless your credit is sparkling and your financial picture is very cut-and-dry, this can mean a lot of back-and-forth between the underwriter and the loan originator. 
Verify your mortgage eligibility (Feb 4th, 2023)
How to Find the Fastest Mortgage Lender
To hone in on which lender can get you to the closing table the quickest, ask the following questions:
Do you do underwriting in-house or do you use a third party?

Lenders that do underwriting in-house will take less time to approve and process your loan than those that have to go back and forth with third-party underwriters.

What's your average time between the application and the closing date?

The lender's recent track record can tell you a lot about whether their loan process is efficient and whether they value their customers' time.

Are your loan processing staff members licensed?

Many mortgage industry employees are just order-takers and have no training in real estate, loans, or banking. Make sure the people that process your loan know what they're doing.

How is your availability in case we run into problems?

Even speedy lenders will slow down if they take on too many clients. Make sure your lender has the bandwidth to get you through the mortgage process quickly.
If you're looking for a fast closing mortgage, check out True Path Loans. We can get you from the application to the closing table in less than14 days! Our fully underwritten pre approval process is quick, easy, and 100% online. Click here to get your pre-approval letter today!
Show me today's rates (Feb 4th, 2023)